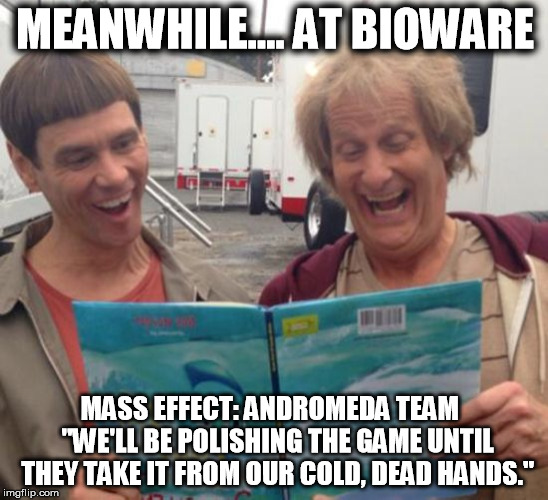 -Whenever I go visit Daddy's room, there is a guard crouched down with a gun scanning the area. I never know what the fuck he's doing. I DOES GUARDING?!

-Eos, for some reason, will not let me kill all the Kett. 

-Just found out Angara are wizards. 
-Found Jaal loving the Cultural Center. He can study my anatomy any day ....................................................................................... I'll see myself out now.
-Bar fighting with Drack was so hilarious. We all know Sara Ryder's face is derpy, but I fell over dying watching her face do "the anger" before this fight. Was laughing so hard I couldn't even dodge the punch coming. Sadly the punch didn't help her face out.
(Bringing this back as reference..... I HAS THE ANGER....?)
-That Krogan nest on Elaadan is the worst place to walk around. I jump off the edges and hope I get to my destination because I can't figure out the tunnels. 
-Sometimes the map tells you to go somewhere and it is not the place you need to go. 
-Found a Krogan in a corner tapping on the wall. At least give the poor guy a job to do.
-Had my first frozen in combat moment. Of course it involved my phase jumping. 
-How many times am I gonna ask; "Who the hell put Addison in charge?"

-This game really wants me to romance Peebee. I will not god dammit! I refuse!
-Found Peebee once again standing behind a wall staring at it while we were dying in combat. 

-Speaking of Peebee, her almost getting me killed for her loyalty mission does not help her chances at romance.